This new electric folding bike is a "Fat bike" with a powerful motor that allows you to achieve faster acceleration. The battery is placed in the middle for a better weight distribution, which benefits the driving characteristics. The Bafang motor is powerful and with the 15.6Ah/748.8Wh Li-Ion polymer battery you have fast acceleration and you can easily cycle against a strong wind or up a steep slope. What makes this "Fat bike" special compared to other Fat bikes is that this model is foldable so that you can easily store in your car, boat, camper or caravan.
---
POWERFUL BAFANG REAR WHEEL ENGINE WITH 7 SHIMANO GEARS
The Lacros Mustang with rear-wheel motor gives, if desired, a very powerful support in every situation, such as with long distances, against the wind or against steep slopes. The motor from Bafang is powerful, very reliable and has fast acceleration. In combination with the 7-speed Shimano and an efficient magnet rotation sensor, the Lacros Mustang with support has a very natural cycling experience. The bicycle is equipped with hydraulic disc brakes for more powerful and less abrupt brakes and extra wide tires for a cool look.
---
STIFF FRAME WITH A SMOOTH FRONT SUSPENSION
The Lacros Mustang has a specially designed rigid frame and is equipped with a fork suspension for more comfort. A spring seat post can be ordered as an option.
---
POWERFUL 48V LITHIUM-ION POLYMER BATTERY WITH LOCK
The Lacros Mustang is equipped with a 15.6Ah/48V Li-ion Polymer battery that is light, powerful and durable. The battery is removable and is secured with a lock. A charger is included with the bike.
---
LCD DISPLAY WITH 9 SUPPORT POSITIONS
The LCD display is located on the handlebars with which the electrical assistance can be adjusted. Two buttons on the left side controls the 9 electrical support modes. The display is illuminated and easy to operate. At the touch of a button you can read all kinds of information, such as speed, distance and battery usage. The electrical assistance stops at speeds above 25 km per hour. This is determined by Dutch law. You operate the lighting with the button and the bicycle is also equipped with a horn.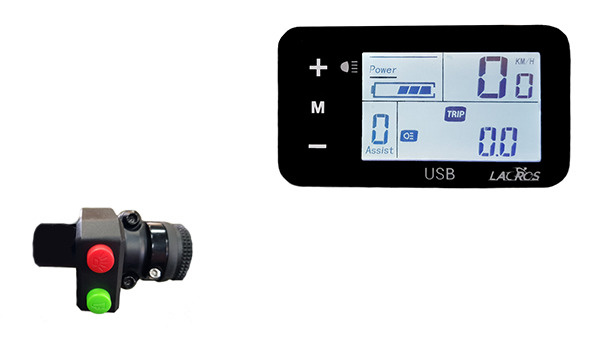 ---
SMOOTH AND POWERFUL SPEED WITH FOCUS ON COMFORT
This Mustang E-bike with 7 gears, 20-inch wheels and brake discs ensures a carefree ride. The stiffness of the frame, the smooth and powerful speed of the BAFANG motor and the sense of control that this e-bike entails, makes you cycle with a good feeling.
---